Ten essential steps to building your website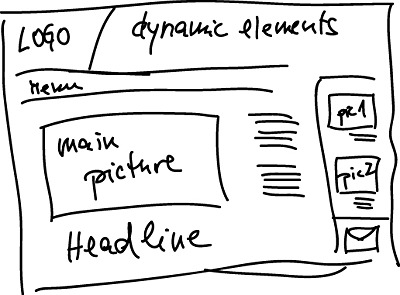 When considering your 'to-do' list in building your online presence, brand and audience, your webiste is the absolute central element. As we have said many times before, your website is your home on the internet. Because it is such an important aspect to your online presence, the following is our essential website checklist to make sure you have everything in order to get your site up quickly and easily.
Set a tentative deadline for your launch date so you (and your designer if you use one) have a concrete goal to shoot for.
 
Determine the primary purpose of your site. Is it a Blog? Store or eCommerce? Informational site? Portfolio or gallery?  Knowing its primary purpose while help make choices that serve its main function.
 
Once you know what you need the site to do, choose the platform that will best serve its purpose and that offers features which allow to easily attain those functions. Three options I like are SquareSpace, WordPress, and Joomla. I DON'T recommend having a custom site built from the ground up using a program like Dreamweaver since all of these Content Management Systems offer easy to set up templates which comply with modern web protocols and include Search Engine Optimization.  Plus, a completely custom site will be more expensive to build AND maintain since you'll have to contact the designer to make any future changes for you.  The three options listed above are all editable from any web browser and have SEO built in.
 
Register your domain and set up your hosting account. I recommend registering your domain using the same company that will host your site since most services give you one free domain. Choose a major hosting service which allows easy setup for your platform of choice. DO NOT USE GODADDY! Their user interface is confusing and they nickel and dime you on features like WhoIs security (which I always activate so my personal contact info isn't tied to my domain for all to see), storage, and advanced email options like IMAP. Choose the hosting service that offers features you like for the price you can afford, and that has good customer service.
 
Once your domain and hosting are in place, set up your email account(s). I recommend using Google Apps. It's free for up to 10 users and has great features like anti-spam filtering and multiple device syncing. Many host services have easy "one-click" setup and instructions for Google Apps.
 
Sketch a basic layout plan for your home page based on the function and content you want to focus on. The home page of your website should draw visitors in and make them want to see more. It is important that you think through the layout, make sure the vital information stands out, and most of all, make it easy to use.
 
Create an outline of the menu items and page hierarchy including nested pages.  A typical website menu outline will look something like this:

Home
About
Media
Blog
Contact
 

Gather all necessary logo and branding elements including color scheme. Image format options should include PNG file format with transparent background. If you work with a website designer like me, provide a high-resolution Photoshop or Illustrator source file to allow for more control over the logo for use on the website.
 
Collect all content elements such as copy (text) for each page, images, video links, etc.  I recommend putting the text and links all in one document with distinct headings for each page and section.  Google Docs or a Dropbox text file are good choices for sharing and updating content information - and much easier to manage than a deluge of emails.  Make sure to include social media account links.
 
Make a list of websites which contain examples of elements you like: aesthetics, layout elements, proportions, functions, etc.  This helps communicate what you're going for in the overall look of your site.  Remember, Flash is bad!
 
Since your website is a visual representation of you and your business online, it's important to get a gameplan together to help execute its implementation as effectively as possible.  Take it from a guy who's built more than a few websites: these steps will help you get your website up and running more quickly and help you get what you envision with fewer hangups along the way.
QUESTION: If you're in the process of setting up a website, what have you done to solidify a plan?  How are you tranferring the ideas in your head to the people helping you build your site?  If you've already built a website, what advice would you like to share?  Please use the comments below to share your thoughts.
Did you find this post helpful? Do you want to know more about how to grow your audience, establish and online presence, and use online resources to sell more books? If so, subscribe to our newsletter! You will receive "The Author's Modern Marketing Guide: 101″ for FREE when you sign up by clicking here!